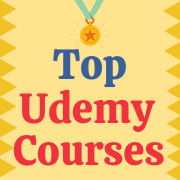 You will find a list of the top Udemy courses on Project Management (PM) in this article. You can buy these as well all other popular & best selling Udemy courses for as little as $10.
Udemy provides thousands of online programs on all kind of subjects. You can find top rated and best selling courses on popular many topics like Web Development, Programming, Data Analytics Personal Development, Leadership, Photography etc.
You will find a list of top rated and most popular PM courses in this article. These include Project Management (PM) subjects like PMP, PMI-ACP, CAPM, Six sigma, ITIL and many other popular certification programs.
You will also find coupon codes in this article. These can be used to buy most Udemy courses at a huge discount – just visit the homepage and apply the promo code.
Udemy provides excellent value for the money. All its programs are designed and taught by experts in their respective fields. It provides Lifetime & Unlimited access to all its programs. To understand the its complete value proposition you should read my review of Udemy.
Happy Learning!
How To Buy Top Udemy Courses?
Udemy keeps on running limited period promotions, wherein lifelong access to all their offerings is available for as little as $9.99. If you want to buy a project management course then you can look at the tables below. But if you are looking for Top udemy courses on any other subject, then you can go through the following steps.
Find a suitable coupon code from the table below.
Go to Udemy's Homepage.
Search for the courses (as per the guidelines of 3 steps to find the highest rated courses on Udemy) of your choice.
Shortlist courses that you would like to buy.
Go one-by-one to all the pages that has your shortlisted courses.
Apply the coupon code to each course.
Add each course to the shopping cart.
Finally buy all the courses that you added to the cart.
[tu_countdown id=8745 design=17][/tu_countdown]
Don't wait when the promotion is going on! You can buy as many as you want. Your courses will never expire. You will get lifelong access to them.
Best Selling And Top Rated Project Management Programs On Udemy
Following tables contains list of Top Udemy courses for managing projects. I have shortlisted the courses by following the guide for finding the best offerings on Udemy. I update the data related to number of students & student's rating periodically.
Before buying any Udemy course, you should first find a suitable promo code from the above table.
PMP Exam Prep
PMP Practice Questions
PMI-ACP Exam Prep
CAPM Exam Prep
PMI-RMP Exam Prep
Prince2 Exam Prep
CompTIA Project+ Certification
ITIL Certification
Learn Project Management
Agile Project Management
MS Project & Excel
Primavera
Other Popular Courses On Udemy
This is not a complete list of Project Management courses that are available on Udemy. It is not even close to what you can get on their website. You can find many other top Udemy courses. You can also look at the following categories to find more courses the subjects related to PM.
Career Enhacement
Personal Development
Exam Preparation
Disclosure: I have not received any compensation (in cash or kind) from Udemy or the program authors or anyone else associated with the portal. But this article contains affiliate links – it means that I will receive a small commission if you click & buy. This commission helps me in maintaining this blog for free. However, you don't pay anything extra. I have personally bought a few programs and I have learned a lot from them. I recommend only those products that I believe will definitely help the blog readers.