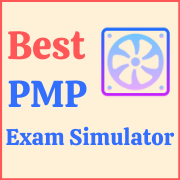 There is an old proverb that says "Practice makes a man perfect". I don't want to be gender insensitive, so let me say "Practice makes a person perfect". My point is that you need to practice a lot of questions using a good PMP exam simulator to pass the credential test.
A top quality practice test simulator will increase your confidence and boost your chances of passing the PMP (Project Management Professional) certification exam.
I have written this article to determine the best PMP exam simulator for your exam prep. It contains review and side-by-side comparison of 6 different simulation softwares for the PMI (Project Management Institute) certification exam prep viz. PM Exam Simulator from Cornelius Fichtner, Brain Sensei, PMtraining from Christopher Scordo, Velociteach from Andy Crowe, Simplilearn, and Fastrack from Rita Mulcahy. All these products are compliant with thew new PMP exam launched in 2021.
PMP is one of the most difficult exams for a project manager. A PMP aspirant must do about 2000 mock exam questions before writing the actual exam. While doing the questions, you should refer to the PMBOK Guide (A Guide to Project Management Body of Knowledge) and Agile Practice Guide for appropriate references. A good practice test simulator will help you in doing this.
Note: In one of my previous articles, PMP Exam Passing Score, I have explained a strategy to determine the readiness for the real PMP exam. A popular simulator is an important ingredient of that strategy.
The Best PMP Exam Simulator
PM Prepcast vs Brain Senseivs vs PMTraining vs Velociteach vs Simplilearn vs Rita Mulcahy
Cornelius Fichtner
Brain Sensei
Christopher Scordo
Andy Crowe
Simplilearn
Rita Mulcahy

Company Details

Company Review
PM Prepcast
Not Available
PMTraining
Not Available
Simplilearn
Not Available
Company Founder
Cornelius Fichtner
John Estrella, Chris Stafford
Christopher Scordo
Andy Crowe
Krishna Kumar
Rita Mulcahy
Company Rating
(4.5 / 5)
(4.5 / 5)
(4.5 / 5)
(4.5 / 5)
(3.5 / 5)
(4.5 / 5)

Technology Aids

Web Based
Yes
Yes
Yes
Yes
Yes
Yes
Mobile Access
Through Browser
Through Browser
Through Browser
Through Browser
Mobile App
Not Optimized for small screens.
Technology Aids Rating
(4.5 / 5)
(4.5 / 5)
(4.5 / 5)
(4.5 / 5)
(5 / 5)
(3 / 5)

Key Features

No. of Questions
2280+
1500
1100+
600
720
2200+
Full Length Exams
4
4
Unlimited
3
4
Unlimited
Exam Generator
Good
Limited
Good
Not Available
Not Available
Good
Test Retakes
Unlimited
Unlimited
Unlimited
Unlimited
Unlimited
Unlimited
Knowledge Area Tests
Generated
No
10
No
No
Canned & Generated
Process Group Tests
Generated
No
Generated
No
No
Canned & Generated
Agile Tests
Generated
No
Generated
No
No
Canned & Generated
Answers & Explanations
Yes
Yes
Yes
Yes
Yes
Yes
Bonus Items
a) Advanced PMI® Exam Strategies (Email Course).
b) Two PMP Exam Worksheets.
d) Weekly exam tips newsletter.
a) Acronyms Review.
b) Glossary Review.
None
None
None
None
Simulator Demo
Available
Not Available
Available
Not Available
Available
Available
Key Features Rating
(4.5 / 5)
(4.5 / 5)
(4 / 5)
(3 / 5)
(3 / 5)
(4 / 5)

Type of Reports

Dashboard
Yes. Very good.
Not Available.
Yes. Very good.
Yes. Limited.
Yes. Limited.
Yes. Good.
Current Test Reports
Yes. Extensive reports.
Yes. Limited.
Yes. Extensive reports.
Yes. Limited.
Yes. Limited.
Yes. Good reports.
Earlier Attempts Reports
Yes. Extensive reports.
Not Available.
Yes. Extensive reports.
Yes. Limited.
Yes. Limited.
Yes. Good reports.
Graphical Reports
Yes. Very good.
Not Available.
Yes. Very good.
Not Available.
Not Available.
Yes. Good.
Reporting Features Rating
(4.6 / 5)
(4 / 5)
(4.5 / 5)
(3 / 5)
(3 / 5)
(4 / 5)

How is Student Support Provided?

Student Support
Through live feedback, email, chat & online forum.
Through email and Facebook Group.
Through online, email & Phone.
Through phone, chat & email.
Through chat, email & online forum.
Only technical support.
Support Rating
(4 / 5)
(4 / 5)
(4 / 5)
(3 / 5)
(3 / 5)
(1 / 5)

Financial Attributes

Access Period
90 days
6 months
90 days
1 week
Lifetime
6 months
Special Features
90 Day period begins when you start your first test.
None
None
None
None
None
Refund Policy
Within 15 days of purchase. (conditions apply)
30 days. Conditions apply.
Within 24 hours of payment. (conditions apply)
Within 5 business days of purchase. (conditions apply)
Within 7 days of purchase after deducting administrative fee.
On a case-by-case basis at the discretion of Customer Service.
Price
USD 149.00

119.00

USD 119.99
USD 99.00

68.00

USD 99.45
USD 149.00
USD 259.00
Rate per Q
USD 0.05
USD 0.08
USD 0.07
USD 0.16
USD 0.21
USD 0.13
Financial Attributes Rating
(4.5 / 5)
(4.5 / 5)
(4.5 / 5)
(3 / 5)
(3 / 5)
(3 / 5)
Overall Rating
(4.4 / 5)
(4.3 / 5)
(4.3 / 5)
(3.5 / 5)
(3.4 / 5)
(3.3 / 5)
Buy At Discount
Comparative Review of Top PMP Practice Tests & Simulation Software
A good simulator validates your knowledge and can boosts your confidence. Whereas, an average to a bad simulator can actually decrease your chances of passing the actual PMP exam. So, you should buy only one of the top simulators.
After doing a test run and thorough evaluation of all the simulators, here is my final recommendation.
First Choice – PM Exam Simulator by Cornelius Fichtner
Why you should buy it: Highest overall rating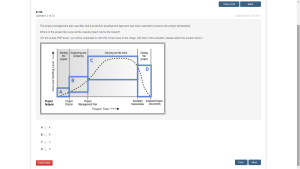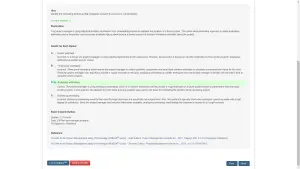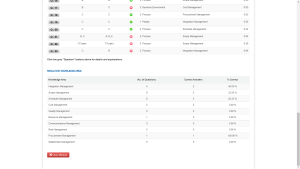 PM Prepcast (OSP International) was founded by Cornelius Fichtner. He is a renowned educationist and well respected figure in Project Management training industry. He is best known for PMP exam prep course. Every year thousands of aspirants successfully pass the exam after studying from Prepcast's training material. PM Prepcast has a strong team of PM experts who provide excellent study support.
This simulator has all the features that an aspirant would want. It provides 90 day access and the access period begins only after you start your first test. It comes with many bonus items and goodies that are not available in other solutions. It is backed by excellent support from Cornelius' team.
This product provides facility to generate topic-wise quizzes, which will help you in validating your knowledge while you are studying for the exam. It provides sound explanations for each practice question and, wherever needed, gives appropriate reference from the PMBOK Guide 6th edition and 7th edition.
Learning Mode: offers hints and answers without any time limitation.
Timed Mode: offers hints and answers but with a time limitation.
Real Exam Mode: simulation of the actual PMP certification exam experience.
In addition, its reporting engine is the best. You can track your tests as you retake them and also measure your performance against others' performance. This way you can concentrate on your weak areas and make improvements as required.
If you are looking for a comprehensive solution with good quality practice tests then you should buy this product.
---
Second Choice – Brain Sensei
Why you should buy it: Most Varied Questions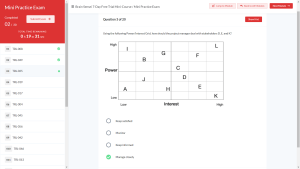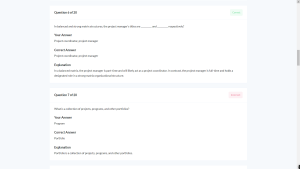 Brain Sensei is a relatively younger player in Simulator space but thousands of students have already used their questions as they are part of their training program. Brain Sensei launched its simulator after getting firmly entrenched as the major player in the PMP training space.
This simulator is completely different from other simulators that I have seen. It has questions for doing PMBOK Guide glossary and acronyms review, which is helpful in understanding the basic fundamentals. It is updated for the latest exam and contains material from the 7th edition of the PMBOK Guide.
The best part of the simulator is that it comes with 100% refund guarantee and very good support.
---
Another Second Choice – PMtraining by Christopher Scordo
Why you should buy it: Most Pocket Friendly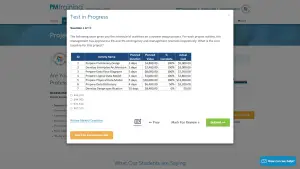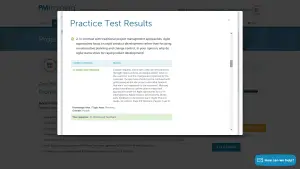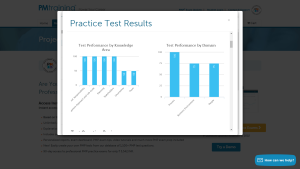 Christopher Scordo is a well known personality in the Project Management training industry. His PMP exam prep book (PMP Exam Prep: Questions Answers & Explanations by Christopher Scordo) is one of the best selling books on Amazon. He is the founder of PMTraining.
Till January 2016, Christopher Scordo's tests used to be the de facto standard for the PMP Exam takers. These tests were available free for the PMI members. Unfortunately, PMI has taken away this privilege now. These tests are are now directly available from PMTraining's website.
Among all the products, this simulator provides the best features and functionality albeit it comes with lot less questions than you might requires for the exam prep.
---
Fourth Choice – Velociteach by Andy Crowe
Why you should buy it: Most Established Brand

The questions and content of this product is good in all aspects but the number of questions are very few. Secondly, the product lacks many features that a good simulator should have.
Overall, you can consider investing in this product because of quality of content and Velociteach's excellent support.
---
Fifth Choice – Simplilearn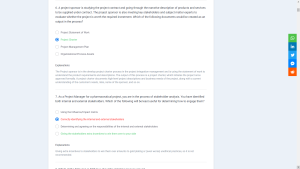 Simplilearn is a professionally managed company that offers slew of courses. They provide professional studio quality videos, very good study material and excellent support. However, the simulator has limited features and it does not contain domain specific tests. It is more expensive and provides lot less features than the other choices.
The rate per question of Simplilearn's product is highest amongst the products that we have compared. You should buy this package only if you are looking for a big brand name. I would suggest you to look at one of the above choices as Simplilearn's package is much inferior to them.
---
Last Choice – Fastrack by RMC Learning Solutions

RMC is sold by the oldest and best known brand in the PMP education industry. Rita Mulcahy's Fastrack was considered to be the Gold standard for the PMP exam preparation but, after the unfortunate demise of Ms. Mulcahy, the product quality has gone down.
The product is still good but the overall package is not as good as the other products. Additionally, it is sold at a very steep price. Again, you should buy this package only if you are looking for a big brand name. My recommendation would be to invest in one of the top choices.
---
Appendix – Criteria For Determining The Top PMP Simulator
You would need about 2000 questions to pass the certification test so you should choose a simulation software that has a large and good quality question bank.
In this article, I have done review & comparison of the top simulators. There are a number of simulators out there but you should do sample questions from reliable sources only in order to increase the chances of your success.
Highlights of Simulators
Velociteach's exams are available for a period of 1 week, 1 month and 3 months. I have chosen 1 week for pricing comparison. The prices for 1 month and 3 months access are considerably higher.
RMC's simulator is available for a period of 6 months and 12 months. I have chosen 6 months for pricing comparison as the price for 12 month access is higher.
Rational for Rating
All simulators are offered by credible, renowned and well-established companies. The quality of questions & explanations are excellent in all the solutions. I have given the rating based on the features provides by these solutions. While arriving at the following ratings, I have not considered pricing and refund policy as pricing should not influence the ratings.
However, you should consider pricing and refund policy while taking the final decision since everyone's budget is different.
We already know that there are many exam simulators out there. So, how do we review & compare PMP Exam Simulator? What are the key features that make a PMP simulator stand out? How do we decide which one is the best to attain the PMP certification?
I have written another article "13 Reasons to Invest in a Paid PMP Practice Exam" in this blog. I have used the content of the that article as a basis to determine the key features of a good PMP simulator. You can also read that article before you buy a paid simulator. Based on the article, I have compiled a list of key features that are important for a good PMP simulator. I have used these features to critically review the PMP simulators and to do a head-to-head comparison. Let us look at these key features and determine the best PMP exam simulator.
Technology Aids – The availability of practice tests on web and mobile are of utmost importance. These features give you lot of flexibility and ease. The questions and the content of a web based simulator can be updated seamlessly & easily. You don't have to worry about the content updates. You don't have to perform software updates or download new files. With PC based simulators, seamless updates are just not possible.
Key Features – The look and feel of practice tests should be similar to the Pearson Vue's exam software. It should have a few full length 180 questions tests and section level tests. By doing a full length tests, you will get to know your concentration level, sitting capacity, speed, and accuracy over 4 long hours. It should provide answers and good explanations for the correct as well as incorrect answers. Many simulators provide inadequate explanations or just answers. This is not enough; the real learning comes by understanding the explanations.
Reporting Features – It should provide a few different types performance reports. These reports should help you in identifying your weak Knowledge Areas and Process Groups. They should also show your mock test performance over a period of time.
Student Support – Many providers give support through emails, private forum discussions, and emails; while some others do not provide this feature. Since you are studying on your own, this is a crucial feature to clarify the doubts. You might feel lost in the absence of such a feature.This is an essential feature of any PMP self-learning product.
Disclosure: I have not received any compensation (in cash or kind) from the Authors or the Training Companies or anyone else associated with any of the exam simulators. But this article contains affiliate links – it means that, if you click & buy from these links then, I will receive a small commission. This commission helps me in maintaining this blog for free. However, you don't pay anything extra. I do not actively use any of these products since I am already certified. But, I recommend only those products that I believe will definitely help the certification aspirants.
Company logos taken from respective company websites