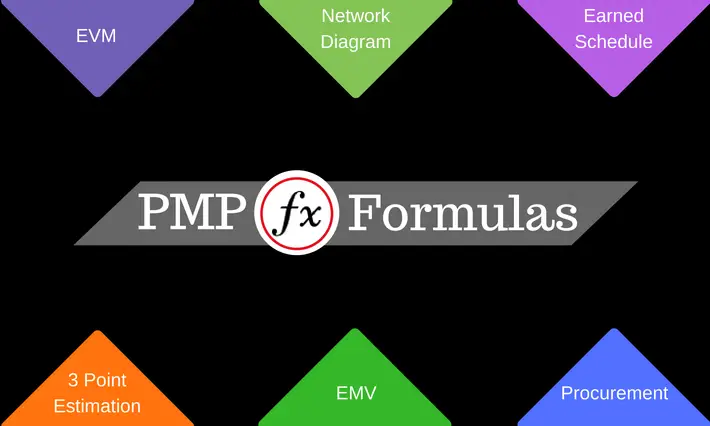 I have created a comprehensive PMP Formulas Cheat Sheet based on PMBOK Guide 6th edition. It is available free of cost as a downloadable pdf in this post.
The formulas sheet can be used as a quick reference guide for solving calculation & formula based questions in CAPM or PMP exam. These formulas are not only useful for passing the exam, but they can be also be used for doing the regular project management work.
You can download the pdf sheet by joining my PMP exam prep FB group.
Project Management Formulas Based On PMBOK Guide 6th Edition
PMP Formulas should be actually called Project Management Formulas, since they are not specific to a particular test. In fact, CAPM aspirants would like to call then CAPM Formulas. However, the former title is most popular. This could be because of the immense popularity of the PMP Exam. But let us not delve into the reasons behind the name. You may call them by whatever name you like. A great man once wrote.
What's in a name?

William Shakespeare
CAPM / PMP Formulas Cheat Sheet
The cheat sheet contains all the formulas as defined or referred to in the PMBOK Guide 6th edition. It is the best & most comprehensive pocket guide that can help you in your studies. It includes formulas for:
Earned Value Management (EVM)
Network Diagrams
Project Estimation
Project Selection Methods
Expected Monetary Value (EMV)
Communication Channels
Procurement Management (Point of Total Assumption)
It is designed to be your constant companion and it will help you in your exam prep. Overall it contains:
45 Important Formulas
57 Abbreviations
And more…
Just check it out yourself.

The proof of the pudding is in eating.
Download CAPM / PMP pdf Sheet Free Of Cost?
You can download the pdf sheet by joining my PMP exam prep FB group.
You can use the pdf file in any of the following four ways:
Print it, fold it and carry it in your pocket for memorizing.
Print it and pin it beside your study table for quick reference while doing mathematical questions.
Save it as Desktop background on your PC or Laptop for ready reference.
Save it on your mobile device for anytime viewing.
It is short. It is comprehensive. It is pocket friendly. Don't wait! Get it now.
A few years ago, I started a LinkedIn Group For The Exam Prep. I created this group to help the aspirants in cracking the certification tests. I moderate this group and answer all certification related questions.
Earlier, the formulas sheet was available for downloading to all the LinkedIn group members. But due to recent changes in the platform, there is no option to share it through LinkedIn.
You can still join the Linkedin group for new exam related content like quizzes, infographics, and tips.
There are no charges for joining LinkedIn or for becoming a group member. It will not cost you any money.
Go ahead! Join the group. It is absolutely free.
Final Thoughts
I have seen my fair share of cheat sheets and formula guides. I would be lying, if I said I have seen all of them that are out there. There are tens of such guides available on the web. However, I can certainly claim to have seen the more popular ones. Most of these guides are sketchy and do not cover many formulas. So, I prepared a new one to share it with the certification aspirants.
Here it is at absolutely no cost to you!
You can download the pdf sheet by joining my PMP exam prep FB group.
Over To You
I am confident that the cheat sheet will help you in attaining the certification. However, if you feel that it can be improved further then don't hesitate to contact me.
Good luck.