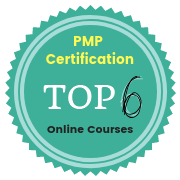 I have written this article to review and compare the best PMP online Training courses for the certification exam prep.
A PMP certification aspirant needs 35 contact hours of project management education to take the credential exam. An online PMP certification course is the cheapest and most flexible way to complete this requirement. These courses are also called self-learning or on-demand PMP training programs.
There are tens (if not hundreds) of such online classes available on the Internet today. All of them look similar on the surface. They seem to have similar study materials and videos. Trying to find the top PMP program is difficult.
You should be extra careful while shortlisting a PMP program. A bad choice can spoil your chances of success in the exam. And, you can potentially lose a lot of money.
Don't worry! I have done a thorough & careful analysis while researching and reviewing the top PMP certification training programs.
By the end of this article, you would know which is the best online PMP training course.
PMP Online Training
As the name suggests, PMP online training courses are delivered over the Internet. The main benefit of these courses is that you can study as per your convenience from the comfort of your home. You get almost complete schedule flexibility for your studies. You can watch the videos at any time or at any place.
These courses are very different from boot camps or live online programs. Unlike boot camps, they do not follow a definite schedule and are not taught by an Instructor. However, they provide everything else a student would need to study. The study material usually includes online videos, audios, presentations, practice tests, workbooks, and other elearnining material.
If you are looking for a live online class, you should read my other article on review & comparison of online PMP boot camps.
The Best PMP Online Training Courses For The Certification Exam Prep
Cornelius Fichtner vs BrainSensei vs Christopher Scordo vs Simplilearn vs Andy Crowe vs Rita Mulcahy
Cornelius Fichtner
BrainSensei
Christopher Scordo
Simplilearn
Andy Crowe
Rita Mulcahy

Is The Provider A PMI Registered Education Provider (REP)?

Yes
Yes
Yes
Yes
Yes
Yes

Does The Provider Issue Mandatory 35 Hours Certificate?

Yes
Yes
Yes
Yes
Yes
Yes

Are The Videos Done By A Native English Language Trainer?

Yes
Yes
Yes
Yes
Yes
Yes

What Are The Technology Aids Available?

LMS
Yes. Good.
Yes. Very good.
Not Available
Yes. Very good.
Yes. Good.
Yes. Very good.
Video Quality
Good
Good
Good
Good
Good
Good
Mobile Access
Downloadable Videos
Requires Internet
Requires Internet
Mobile App
Requires Internet
Requires Internet
Technology Aids Rating
(4.5 / 5)
(4.5 / 5)
(4 / 5)
(4.5 / 5)
(4.5 / 5)
(4.5 / 5)

What Study Aids Are Provided As Part OF The Program?

Presentation Handout
No
No
Downloadable
No
No
No
Video Content
50 hours
8 hours
35 hours
29 hours
35 hours
10 hours
Audio Content
Yes
Yes
No
No
No
Yes
Course Workbook
129 pages
No
450 pages
No
No
No
Study Guide
No
No
Downloadable
No
No
Online viewing of Rita's book
Chapter End Quizzes
Yes
Yes
Yes
Yes
Yes
Yes. With Rita's Book & Fastrack subscription.
Final Mock Questions
1600+ questions with free subscription to PM Exam Simulator

900 questions

200 questions

1000+ Q simulator available a special price of USD 49.00.

1400 questions

500 questions

600 Q simulator available for USD 99.00.

1600+ questions with Fastrack subscription
Formulas Guide
No. Guide with 105 Q available at USD 29.99
No
Yes
No
Yes
Yes
PMBOK Guide Process Chart
No. Complete ITTO Guide available at USD 4.99
No
Yes
No
Yes
No
Flashcards
No
No
No
No
No
No. 300 flashcards available at extra cost
Memory Map
No
No
Yes
No
Yes
No
Tips & Tricks
Yes. As part of the course and through weekly newsletters.
Yes. As part of the course.
Yes
Yes. As part of the course.
Yes. As part of the course.
Yes. As part of the Rita's book.
Glossary
No
Yes. Not downloadable.
Yes
No
No
No
Other Content
Email Course.
PM Templates.
None
PM Case Studies.
None
None
Study Aids Rating
(4 / 5)
(3.5 / 5)
(4.5 / 5)
(3.5 / 5)
(3.5 / 5)
(4 / 5)

How Is The Student Support Provided?

Study Assisstance
Yes. Through online forum.
Yes. Through email.
Yes. Through email and chat.
Yes. Through online peer forum.
Yes. Through email and chat.
None
Study Assistance Rating
(3.5 / 5)
(3.5 / 5)
(4 / 5)
(3.5 / 5)
(3.5 / 5)
(0 / 5)

What Is The eLearning Access Duration?

Till next PMP exam change
6 months
90 days
180 days
3 months
180 days
Access Period Rating
(5 / 5)
(5 / 5)
(4 / 5)
(5 / 5)
(4 / 5)
(5 / 5)

How Good Is The Quality Of The Content?

Content Quality Rating
(4.5 / 5)
(4.5 / 5)
(4.5 / 5)
(4 / 5)
(4.5 / 5)
(4.5 / 5)

Information About The Other Attributes Of The Program

Course Demo
Available
Available
Available
Available
Available
Available
Refund Policy
90 days. Conditions apply.
No refunds. 100% pass guarantee.
24 hours. Conditions apply.
7 days. Conditions apply.
5 days. Conditions apply.
None
Price
USD 358

299

USD 800

499

USD 599

349

USD 499

349.30

USD 349
USD 988
Overall Rating
(4.3 / 5)
(4.2 / 5)
(4.2 / 5)
(4 / 5)
(3.9 / 5)
(3.6 / 5)
Buy At Discount
Highlights Of PMP Exam Training Programs
PM PrepCast is available in three variants – Basic, Elite & Executive. PM PrepCast Executive is the most expensive of the lot as it includes coaching sessions with an instructor. PM PrepCast Elite is a combo product that includes PM PrepCast Basic, PM Exam Simulator (1000+ practice questions), and a few other exam prep products as detailed in the table above. PM PrepCast Basic is a regular online self-learning course.
Brain Sensei course is completely different from the other programs. It is extremely easy to grasp the PMBOK Guide concepts as the topics are taught Process Group wise. It comes with a 100% pass guarantee.
PMTraining program includes number of study aids. It has almost everything except for the final simulation tests. These can be bought separately for a special price of USD 49.
Simplilearn's course is priced differently in different countries. You can check the price in your country by clicking here. It is available at special discount on this blog.
Velociteach's course is also available for 1 month & 6 months access for USD 219 and USD 499 respectively. I have considered 3 months access for comparison, which is available for USD 349.
RMC's program is also available without 35 contact hours certificate for only 3 days of access at USD 288.
Review Parameters For Rating Online PMP Courses
I have compared and rated the programs on 5 different parameters. You can look at the details of these parameters in the Appendix below. Here is the rational for the ratings:
Technology Aids – I would have given a 5 star rating if the providers were giving a fully-featured Learning Management System (LMS) and a mobile app. There is something or the other missing in each program. Hence, I have given a lower rating of 4 and 4.5 depending on the quality of the LMS and availability of the mobile app.
Study Aids – I have given the rating based on the quantum and utility of study material given by the providers.
Study Assistance – I have given the rating based on the quantum and type of support given by the providers.
Access Period – I think 90 days is more than enough to prepare, study and pass the exam. Nonetheless, I have given 4 star rating for 90 days or 3 months access and 5 star rating for more than 90 days access.
Content Quality – I have given rating on content quality after critically reviewing the videos and other study material.
I have not considered pricing, refund policy, and pass guarantee while arriving at the ratings as the programs should be compared on the technical factors like quality & content. In my opinion, pricing should not influence the rating. Moreover, everyone's budget is different. However, you should consider the price before taking the final decision.
Top Online PMP Certification Training Courses
The PMP certification is an expensive affair. The training cost is one of the major component of the total certification cost. You should choose your training course judiciously. A good training could improve your chances of success whereas a bad one can lead to the failure in the exam.
We have reviewed top 6 courses but you need only one for your exam prep. It is very difficult to choose one out of the six as some of them are evenly matched. So, let us start by eliminating the ones that are not worthy of investment.
RMC is an established brand in the project management training industry. Its offering is popular but it has not fared well in our comparison. Some aspects of RMC's program is very good, but its overall rating is low. Moreover, in my opinion, RMC's program is obnoxiously priced. You can buy a good PMP Instructor Led Training Course in this price range. I would not recommend you to buy this program.
Let's talk about the other programs. All of them have almost equal rating in our comparison but each one of them has its own advantages. You can buy any one of them based on your unique preferences. Let me elaborate a bit.
First Choice – PM Prepcast


Cornelius Fichtner is renowned educationist and well respected figure in Project Management training industry. Every year thousands of aspirants successfully pass the exam by studying from Cornelius' training material. He is the founder of his company and the creator of many exam prep products.
Among all courses, this course is most reasonably priced. It has got the highest rating in our comparison. The best part is that you can download all the videos. If you decide to invest in this course, then I would recommend you to buy in PM PrepCast Elite as it offers better value than the Basic variant.
The Elite variant is price at USD 299 whereas the Basic variant is priced at USD 229. However, the Elite variant comes bundled with 1600+ practice questions PMP Exam Simulator. The Simulator is separately priced at USD 129, but you would save $59 by buying it as part of PM PrepCast Elite.
---
Alternative First Choice – Brainsensei

Brain Sensei's course is completely different from any other program that I have seen. It teaches the PMBOK Guide's topics Process Group wise. This is really helpful in understanding the the project management concepts. The topics are covered as part of a long story, which makes the course very engaging. You never feel bored. The lessons are interspersed with small quizzes & exercises that validate your learning as you go along.
This course comes with very few study aids. You would need to buy Kim Heldman's study guide to complement this course. It is more expensive than the other choices presented in this article but it is worth the price.
---
Close Second Choice – PM Training

Christopher Scordo is a well known personality in the Project Management training industry. His book (PMP Exam Prep: Questions Answers & Explanations by Christopher Scordo) is one of the best selling books for the exam prep. He is the founder of PMTraining.
This course offers the more study aids than any other course. It is almost complete in all respects. But you would need to buy extra practice questions to complement this course.
---
Third Choice – Simplilearn


Simplilearn is a professionally managed company that offers slew of courses. They provide professional studio quality videos and very good study material. The student support is provided only through online forum and it not as good as other providers.
This is an expensive course but the price becomes reasonable because of the exclusive discount coupon available on this blog. If you are looking for a big and well-established brand then you can invest in Simplilearn's offering. Otherwise, I would suggest you to look at other better choices.
---
I believe, one of my recommendations would suit your needs. You can buy any one of the recommended courses mentioned above. However, if you want to explore more courses, you can use the key parameters (described in the Appendix below) to review, evaluate and compare any other course(s) that is not covered in this article.
---
Appendix
Key Parameters Of An Online PMP Training Course
What are the key factors or attributes that makes a self-learning PMP online training course good? What are the things that you should look out for before enrolling in such a course? Here is a list of key parameters that are must for a self-learning online course.
Registered Education Provider (REP) – This is not an essential feature of a online PMP course, as a non-REP can also also issue a 35 contact hours certificate. However the certificates issued by a REP are pre-approved by PMI. Since the PMP certification exam is a difficult exam, one should be careful and take online PMP course from a REP only.
35 Hours Certificate – Many training providers give access to the online training material but they do not issue the 35 contact hours certificate. Since this is a mandatory certificate for appearing in the exam, a training course is useless without it.
Native Language Trainer – The exam is conducted in English. It is extremely useful to learn from the content that has correct English grammar and idioms. The online videos and the other content should be prepared by an trainer whose native language is English.
Technology Aids – The availability & quality of Learning Management System (LMS) and accessibility of eLearning material over mobile devices are very important for an on-demand program. LMS keeps track of your learning progress and learning through mobile devices can save a lot of time.
Study Aids – A PMP online course should provide additional study material besides the video and audio content. The video and audio content is good for understanding the concepts, but actual learning comes from practice tests, downloadable workbooks, formula guide, glossary etc.
Study Assistance – Many courses provide study support through emails, private forum discussions, and webinars; while some others do not provide this feature. Since you are studying on your own, this is a crucial feature to clarify the doubts. You might feel lost in the absence of such a feature. A PMP online course should provide such a feature.
Access Period – I believe duration of access period for eLearning course should not be less than 90 days. I think 90 days is more than enough to prepare, study and pass the exam.
Content Quality – The quality of content is another important aspect of a PMP online training course. You would have to study & understand things on your own. You will face problems, if the content quality is not top-notch. The written content, pictures, graphics and illustrations should be clear & readable (in presentations & videos). The speech quality should be excellent in both video & audio content – the instruction should be clear, well-paced, and without any discernible accent. Overall, the content should be engaging & interesting.
Other Factors While Evaluating A Course
Refund Policy – You may need to get refund of your money in an exceptional circumstance. Most providers have some sort of refund policy.
Pass Guarantee – Some courses provide a pass guarantee. Generally, under such a guarantee, the training provider either refunds your fees or allows you to continue to access the course till you pass the exam. A pass guarantee is not a bad attribute in itself. If all the other things are equal, then pass guarantee could be an icing on the cake. Otherwise, do not get swayed by it. Do you want to enroll in a course to fail the exam? You neither want your money back nor waste time & money on additional PMP attempts. So, a better approach is to invest your time & money in a good, credible, and popular course.
Disclosure: I have not received any compensation (in cash or kind) from the Authors or the Training Companies or anyone else associated with any of the training courses. But this article contains affiliate links – it means that, if you click & buy from these links then, I will receive a small commission. This commission helps me in maintaining this blog for free. However, you don't pay anything extra. I do not actively use any of these products since I am already certified. But, I recommend only those products that I believe will definitely help the certification aspirants.
Company logos taken from respective company websites