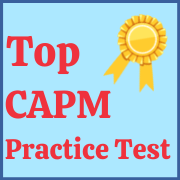 You might be looking for the best CAPM certification exam simulator. You will find the review and comparison of the top CAPM practice tests in this article.
In order to successfully pass the PMI credential test in your first attempt, you should practice hundreds of sample questions and do a lot of mock tests. It will validate your knowledge and boost your confidence. This article will help you in finding the right test for your exam prep needs.
By the end of this article, you would know which the best CAPM exam simulator is for practicing sample questions.
The Best CAPM Exam Practice Test Simulator
PM Prepcast vs PMTraining vs Velociteach vs RMC Learning Solutions vs Master of Project Academy
Cornelius Fichtner
Christopher Scordo
Andy Crowe
Rita Mulcahy
Resit Gulec

Company Details

Company Review
PM Prepcast
PMTraining
Not Available
Not Available
Master of Project Academy
Company Founder
Cornelius Fichtner
Christopher Scordo
Andy Crowe
Rita Mulcahy
Resit Gulec
Is it a PMI Authorized Training Partner (ATP)?
No
Yes
No
No
No
Company Rating
(4 / 5)
(4 / 5)
(4 / 5)
(4 / 5)
(3 / 5)

Technology Aids

Web Based
Yes
Yes
Yes
Yes
Yes
Mobile Access
Through Browser
Through Browser
Through Browser
Not Optimized for small screens.
Through Browser
Technology Aids Rating
(4.5 / 5)
(4.5 / 5)
(4.5 / 5)
(3 / 5)
(4.5 / 5)

Key Features

No. of Questions
650+
1000+
450
850+
1350
Full Length Exams
5
Generated
3
Generated
9
Exam Generator
Very Good
Very Good
Not Available
Very Good
Not Available
Test Retakes
Unlimited
Unlimited
Unlimited
Unlimited
Unlimited
Knowledge Area Tests
Generated
10
No
Yes
No
Process Group Tests
Generated
Generated
No
Yes
No
Answers & Explanations
Yes
Yes
Yes
Yes
Yes
Bonus Items
a) Advanced Exam Strategies (Email Course).
b) Sample Exam Score Worksheet.
c) Contact Hour Worksheet.
d) Exam Tips Newsletter.
a) Personalized reports.
b) Exam Tips.
c) Video Tutorials.
None
None
None
Simulator Demo
Available
Available
Not Available
Available
Available
Key Features Rating
(4.5 / 5)
(4.5 / 5)
(3.5 / 5)
(4.5 / 5)
(4 / 5)

Type of Reports

Dashboard
Yes. Very good.
Yes. Very good.
Yes. Limited.
Yes. Good.
No
Current Test Reports
Yes. Extensive reports.
Yes. Extensive reports.
Yes. Limited.
Yes. Good reports.
Yes. Limited.
Earlier Test Reports
Yes. Extensive reports.
Yes. Extensive reports.
NA
Yes. Extensive reports.
Yes. Limited.
Graphical Reports
Yes. Very good.
Yes. Very good.
No
Yes
No
Reporting Features Rating
(5 / 5)
(5 / 5)
(3 / 5)
(4 / 5)
(2 / 5)

How is Student Support Provided?

Student Support
Through live feedback, email & online forum.
Through online, email & Phone.
Through phone, chat & email.
Only technical support.
Through support team.
Support Rating
(4.5 / 5)
(4 / 5)
(4 / 5)
(1 / 5)
(3 / 5)

Financial Attributes

Access Period
90 days
90 days
1 week
3 months
1 month
Special Features
a) 90 Day period begins when you start your first exam/quiz.
b) Unlimited retakes.
Unlimited retakes
Unlimited retakes.
Unlimited retakes.
Unlimited retakes.
Refund Policy
Within 15 days of purchase. (conditions apply)
Within 24 hours of payment. (conditions apply)
Within 5 business days of purchase. (conditions apply)
On a case-by-case basis at the discretion of Customer Service.
Within 30 days of purchase. (conditions apply)
Price
USD 69.00
USD 99.00

68.00

USD 99.45

76.58

USD 89.00
USD 47.00 per month
Rate per Q
USD 0.09
USD 0.07
USD 0.17
USD 0.10
USD 0.04
Financial Attributes Rating
(4 / 5)
(4.5 / 5)
(3 / 5)
(3.5 / 5)
(3.5 / 5)
Overall Rating
(4.4 / 5)
(4.3 / 5)
(3.7 / 5)
(3.3 / 5)
(3.3 / 5)
Buy At Discount
Reveal Coupon & Buy
Review of Top CAPM Exam Simulators For Practicing Sample & Mock Questions
A CAPM simulator is extremely useful for the exam prep. It should be chosen carefully as it can make or mar your chances of craking the exam.
A good simulator can validate your preparation level and boost your confidence. It can help you in successfully passing the credential exam in your first try. On the other hand, an average or a bad simulator can decrease your chances of passing the exam.
All the solutions reviewed and compared in this article are from the top training providers but some of them are not as good as others.
You can invest in any of the first two choices without any second thoughts. You can also invest in Velociteach's solution. Although Velociteach's solution is steeply priced and its features are not as good as compared to the first two choices but it tests are very good.
I would not recommend you to buy practice tests from RMC or Master of Project Academy. Their overall rating is quite low as compared to others. They have some serious shortcomings.
Let me summaraize pros and cons of all the five simulators that are discussed above.
First Choice – PM Prepcast by Cornelius Fichtner

PM Prepcast was founded by Cornelius Fichtner. He is a renowned educationist and well respected figure in Project Management training industry. Every year thousands of aspirants successfully pass the exam after studying from Prepcast's training material. PM Prepcast has a strong team of PM experts who provide excellent study support.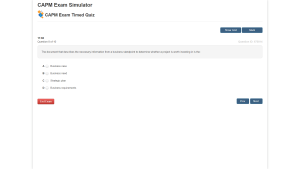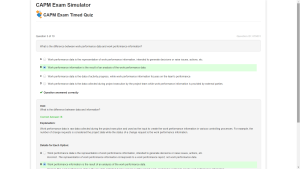 This simulator is very reasonably priced. Its reporting features are the best among its competitors. It comes along with bonus study material. The bonus material includes an email course & weekly newsletter, which is extremely useful for the exam preparation.
In my opinion, you can buy Prepcast solution without even looking at other choices.
---
Second Choice – PMTraining by Christopher Scordo

PMTraining was founded by Christopher Scordo. He is a well known personality in Project Management training industry.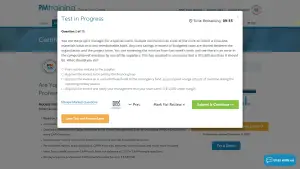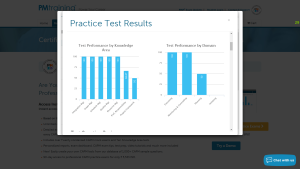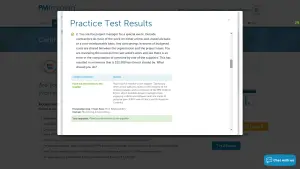 Before Internet became ubiqutous and powerful, Mr. Scordo's book on PMP mock questions "PMP Exam Prep: Questions Answers & Explanations by Christopher Scordo" was considered to be the best thing for practicing questions.
In fact, till January 2016, Christopher Scordo's tests used to be the de facto standard for the PMP Exam takers. These tests were available free for the PMI members. Unfortunately, PMI has taken away this privilege now. PMTraining's CAPM simulator is on the same lines as their PMP simulator. All the simulators are now directly available on their website.
This solution is almost as good as the first choice. You can consider buying it.
---
Third Choice – Velociteach by Andy Crowe

Velociteach was founded by Mr. Andy Crowe. He is the author of a book titled The PMP Exam. This book is one of the best selling books on Amazon.
Velociteach is one of the oldest and most established brands in Project Management training industry. For all practical purposes, the questions and content of this product are very good.
On the downside, this product is much more expensive than others. Additionally, it lacks many features that a good simulator should have.
Overall, you can consider investing in this product because of quality of content and Velociteach's excellent support.
Buy CAPM Practice Tests from Velociteach at 23% Discount
---
Fourth Choice – PM Fastrack by RMC Learning Solutions

PM FasTrack is sold by the oldest and best known brand in the PMP education industry viz. RMC. RMC was founded by Ms. Rita Mulcahy. This product was considered to be the Gold standard for the PMI exam preparation but, after the unfortunate demise of Ms. Mulcahy, the product quality has gone down.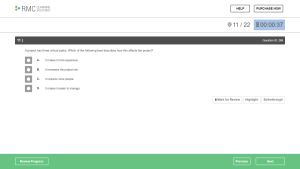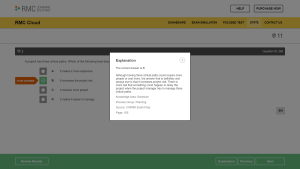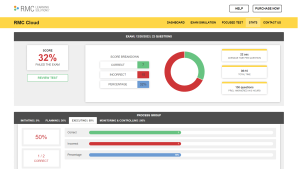 Overall, the product is still good but RMC support is not up to the mark. In my opinion, you should not consider investing in it.
---
Last Choice – Master of Project Academy

Masterofproject is a new entrant in the PM Training industry. This product was launched in 2020, so it is still very new. In my experience, company's communication and support is not good.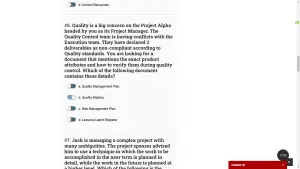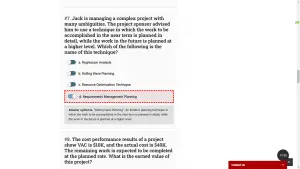 The pricing of Master of Project courses is very different from others. You can buy this product for a monthly subscription. The product seems to be reasonably priced but one month is not enough to prepare and pass the exam. Additionally, it lacks many features that a good simulator should have.
I would recommend you to invest in one of the first three choices and ignore this product.
---
Related Articles
Best CAPM Online Certification Training Course
---
Appendix – Criteria For Determining The Top CAPM Simulator
Highlights of Simulators
Cornelius's simulator provides 2 tests specifically to test your knowledge of Inputs, Tools & Techniques, and outputs (ITTO).
Velociteach's exams are available for a period of 1 week, 1 month, 3 months, and 6 months. I have chosen 1 week for pricing comparison. The prices for other options are considerably higher.
Rational for Rating
All simulators are offered by credible, renowned and well-established companies. The quality of questions & explanations are excellent in all the solutions. I have given the rating based on the features provides by these solutions.
There are number of CAPM exam simulators that offer practice tests. What are the key features that make a CAPM practice test simulator stand out? How did I decide which one is the best to crack the certification exam?
I have written another article "13 Reasons to Invest in a Paid PMP Practice Exam". I have used the content of the that article as a basis to determine the key features of a good simulator. Based on the article, I have compiled a list of key features that are important for a good simulator. I have used these features to critically review and to do a head-to-head comparison of the simulators.
Here is the list and brief description of these key features.
Authorized Training Partner (ATP) – This is not an essential feature of a online PMP practice exams. You can buy practice tests from a non-ATP also. However, practice tests from a ATP give much more confidence.
Technology Aids – The availability of practice tests on web and mobile are of utmost importance. These features give you lot of flexibility and ease. The questions and the content of a web based simulator can be updated seamlessly & easily. You don't have to worry about the content updates. You don't have to perform software updates or download new files. With PC based simulators, seamless updates are just not possible.
Key Features – The look and feel of practice tests should be similar to the Prometric exam software. It should have a few full length 150 questions tests and section level test. By doing a full length tests, you will get to know your concentration level, sitting capacity, speed, and accuracy over 4 long hours. It should provide answers and good explanations for the correct as well as incorrect answers. Many simulators provide inadequate explanations or just answers. This is not enough; the real learning comes by understanding the explanations.
Reporting Features – It should provide a few different types performance reports. These reports should help you in identifying your weak Knowledge Areas and Process Groups. They should also show your mock test performance over a period of time.
Student Support – Many providers give support through emails, private forum discussions, and emails; while some others do not provide this feature. Since you are studying on your own, this is a crucial feature to clarify the doubts. You might feel lost in the absence of such a feature.This is an essential feature of any PMP self-learning product.
Disclosure: I have not received any compensation (in cash or kind) from the Authors or the Training Companies or anyone else associated with any of the exam simulators. But this article contains affiliate links – it means that, if you click & buy from these links then, I will receive a small commission. This commission helps me in maintaining this blog for free. However, you don't pay anything extra. I do not actively use any of these products since I am already certified. But, I recommend only those products that I believe will definitely help the certification aspirants.
Company logos taken from respective company websites