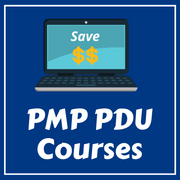 Certified PMPs need 60 (Professional Development Units) PDUs every 3 years to renew their certification. Other PMI credential holders also get 3 year renewal cycle to maintain their certification:
PMP, PgMP, PfMP, and PMI-PBA holders need 60 PDUs for renewal and maintenance.
CAPM holders need 15 PDUs for renewal and maintenance.
PMI-ACP, PMI-RMP, and PMI-SP holders need 60 PDUs for renewal and maintenance.
These PDUs can be easily earned by doing various professional development activities. These activities fall under two broad categories:
Education – Activities that expand and enhance technical, leadership, or strategic & business management skills of professionals.
Giving Back to the Profession – Activities in which professionals share and utilize their knowledge & skills in order to contribute to and help build the profession.
PMPs need to earn a minimum of 35 PDUs in the Education category. They can earn these by enrolling into any training course that can help you in upgrading your project management, business management or leadership skills.
As per the CCR guidelines, you can claim 1 PDU for 1 hour of learning. e.g. if you watch 5 hours of video and spend another 3 hours for reading associated material & making notes, then you can claim 8 PDUs.
Let's checkout some some online training courses that you can use to easily earn PDUs in Education category.
Note: There is a difference between PDUs and Contact Hours. PDUs are required after attaining the certification whereas contact hours are needed to appear for the certification exam. If you are preparing for the PMP exam and are looking for 35 contact hours then you should read these articles – Top Online PMP Courses and Top PMP Instructor Led Courses to shortlist a good course for yourself.
Top PDU Training Courses For PMI (PMP) Certifications Renewal
I have curated a list of project management and professional development courses for earning PDUs. All these courses are available on Udemy at an unbelievably low price.
I chose Udemy courses as it provides thousands of online courses on all kind of diverse subjects at a very reasonable price. One of the main benefits of Udemy is that it offers unlimited, lifetime access on all its courses. To understand its complete value proposition you can read complete Udemy review.
Learn Project Management
Agile Project Management
MS Project & Excel
Primavera
Business & General Management
Personal Development
Other Courses
This is not a complete list of courses that can be used for earning PDUs. It is not even close to what you can get on Udemy. There are thousands of courses available on Udemy. You can look at the following course categories to find many other PMP PDU courses.
You can also perform a general search and browse Udemy to find many other interesting courses. You can refer to 3 Steps to Find The Best Udemy Course to find many other courses of your choice.
Disclosure: I have not received any compensation (in cash or kind) from Udemy or the program authors or anyone else associated with the portal. But this article contains affiliate links – it means that I will receive a small commission if you click & buy. This commission helps me in maintaining this blog for free. However, you don't pay anything extra. I have personally bought a few programs and I have learned a lot from them. I recommend only those products that I believe will definitely help the blog readers.