PMP is one of the costliest professional exams. The PMP certification can cost anywhere between $750 to $3000.
The major amount of money is spent on the exam fee and training expenses. The former is paid to the PMI and costs $555 whereas the latter can cost anywhere between $200 and $2500.
Apart from the exam fee and training expenses, there are other sundry costs. In total, there are nine different cost components for attaining and maintaining the PMP credential. I have written this article to explain these components. You must price in all the components to estimate the expenditure and prepare a budget for yourself.
PMP Certification Cost: Exam Fee & Other Expenses
1. PMP Exam Fee
The standard PMP exam fee for PMI non-members is $555 but it reduces to $405 if you become a PMI member.
However, the discount is not as big as it seems. In order to become a PMI member, you will have to pay additional joining and membership fee of $10 and $129 respectively. If you become a memeber, you will have to shell out $544 for taking the exam.
Either way (whether you take the membership or not), your expenditure will be approximately $550 for appearing in the exam.
You can look at the following table to understand the total examination related expenses in USD.
| | | |
| --- | --- | --- |
| Are you taking Membership? | No | Yes |
| Membership Fee | $0 | $129 |
| Joining Fee | $0 | $10 |
| Exam Fee | $555 | $405 |
| Total | $555 | $544 |
I would suggest you to become a PMI member as there are many benefits of PMI membership. The main advantage is that you can download a free digital copy of the PMBOK Guide (see #3 below) by becoming a member.
The following table provides member and non-member fee in different currencies.
| PMI Member Status | US Dollars | Euros | BRL | INR |
| --- | --- | --- | --- | --- |
| Member | $405 | €340 | R$1,967 | ₹23,459 |
| Non member | $555 | €465 | R$3,370 | ₹42,863 |
Note: You can refer to Credential Handbook for more information on how the exam is conducted.
2. PMP Training Fee
The training fee is the most expensive component of the certification cost. A good training can cost anywhere between $200 to $2500. However, if you want, you can limit your outgo to about $200 by enrolling into a PMP online training course.
A 35 contact hours of formal project management training is mandatory for taking the PMP certification exam. There are many different ways to fulfill this requirement. You should check my other article on PMP exam prerequisites to find out the different options.
You can complete 35 hours requirement by taking any project management course. It does not necessarily have to be a PMP facilitation course. In fact, if you already have the mandatory education hours from your college education or from your company's training programs, you can get away without spending any money.
However, I would suggest you to take a formal PMP facilitation course in order to reduce your chances of failing in the exam.
You can take a PMP training in one of the following modes:
Classroom program – Depending on your geography and the training provider, a classroom training can cost anywhere from $200 to $2500.
Instructor led online course – A good PMP online boot camp can range between $200 to $2000.
Self-Learning online course – A good PMP online prep course can range between $200 to $500.
There are obvious pros and cons of each type of training program. You can download my free exam prep guide to understand which type of program is best for you.
3. The PMBOK Guide
The PMBOK Guide is the primary reference book for the PMP exam. It will cost you $0 if you become a PMI member. After becoming a member, you can download it free of cost from PMI's website.
If you are comfortable studying from a digital book then I will not suggest you to spend any money for this. However, if you like the feel of a physical book in your hands then you should order a physical copy of the Guide.
The Guide is not too expensive considering the overall costs. You can buy paperback version of the PMPBOK Guide from Amazon for about $40.
4. Other Reference Books And Study Guides
In addition to the PMBOK Guide, you should invest in a good reference book, which will cost you anywhere between $40 to $100.
I have written an article for comparing top PMP books. You should read this article and choose a good book for yourself.
A good book is not cost you too much money but it will boost your chances of passing the exam in your first attempt.
5. PMP Practice Tests
PMP is one of the most difficult professional exams and you should invest in good practice tests to pass it successfully.
There are many free mock tests available on the Internet. However, you would need full length paid tests to crack the exam.
A good PMP practice test simulator would cost you between $60 to $250. You can look at my post on review and comparison of the top PMP practice tests to find the best one that suits your needs.
6. Other Study Material
The PMP exam failure rate is very high. You can buy additional study material in order to lighten your study.
Additional study material is not as expensive as some of the items that are listed in the previous sections. You can set aside a budget of approximately $50-100 for it.
If you want you can invest in my ITTO learning tools bundle and Mathematics Quiz. They will help you in your studies.
Or, you can start your preparation by downloading free PMP ITTO chart and free PMP formulas sheet.
7. PMP Reexamination Fee
After your application is approved, you are allowed a maximum of 3 attempts at the PMP exam. In an unfortunate circumstance, if you are not able to pass the exam in the first attempt, you can go for 2 additional attempts to crack the exam. You have to pay reexamination fee each time you sit for the exam.
The cost of reexamination for PMI members is $275 whereas for non-members it is $375. It is shown in the table below.
| Exam Administration Type | PMI Member Status | US Dollars | Euros | BRL | INR |
| --- | --- | --- | --- | --- | --- |
| Reexamination CBT | member | $275 | €230 | R$1,670 | ₹15,929 |
| Reexamination CBT | non member | $375 | €315 | R$2,277 | ₹28,961 |
8. PMP Renewal Fee
After every three years, you have to renew your credential. PMI members have to pay $60 whereas non-members have to pay $150 as the renewal fee.
| Membership Status | Credential Renewal Fee |
| --- | --- |
| Non member | $150 |
| Member | $60 |
9. Exam Cancellation Charges
The final component of the PMP exam is cancellation charges. You will have to pay this only if you decide to cancel the exam after scheduling it.
| Cancellation Within | Cancellation Charge |
| --- | --- |
| 30 Days | $70 |
| 48 hours | Entire exam fee is forfeited (can't reschedule or cancel) |
The Total Cost Of PMP Certification?
The total cost of PMP certification would vary from person to person. It depends on the country of your residence, type of training you opt for, study aids that you buy, and a few other factors.
You would need at least $750 to pass the PMP exam. You can refer to the following table to see two such examples.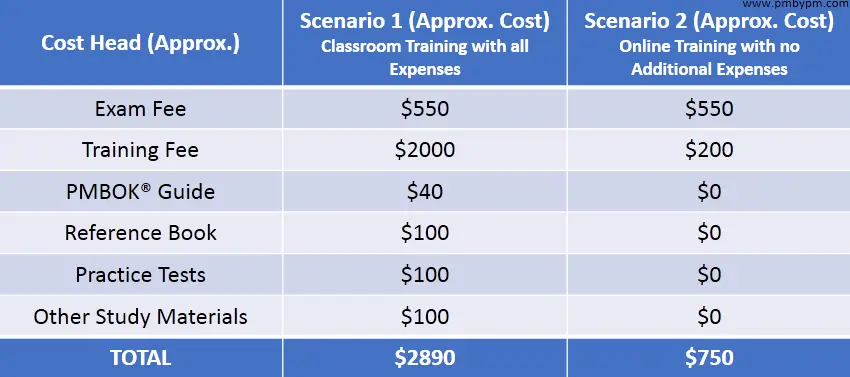 Note: I have not considered cost of re-exam, cancellation, and renewals in the above table.
Final Thoughts
Now, $750 is a large sum of money but if you have decided to pursue PMP then you should start your preparation immediately. You should not postpone your preparation as you would potentially lose a large sum of money by delaying it.
PMP certification is well worth the time and cost investment. In addition, PMP has a lot of advantages in the job market.
Good luck!
Over To You
What is your take on the the cost involved in pursuing PMP certification? Do you think it is beyond your budget? Do you think it is worth to pursue this credential?
I would welcome your comments.