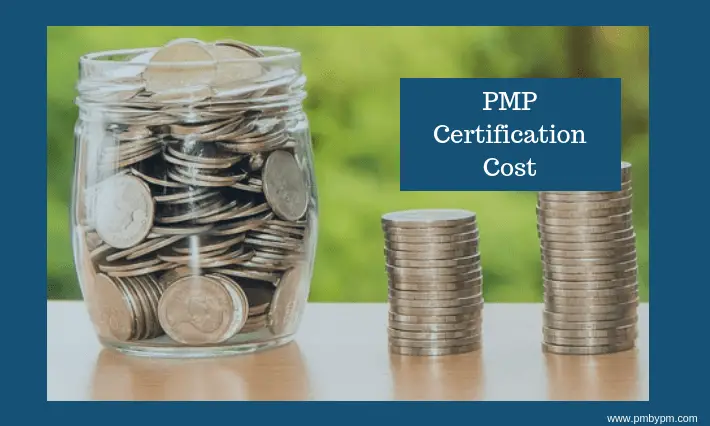 PMI's PMP certification is a costly affair. PMP Certification Cost includes many components besides PMP Exam fee. Besides spending money on the PMP credential test, you might have to budget for 7 other cost components. Out of these, training expense could be the major expenditure. If you are not careful, your total investment may go through the roof.
In this article, I have explained how much does the PMP certification cost for gaining & maintenance.
The Mandatory Component Of The PMP Certification Cost
PMP Exam Fee
Normally exam is held as a Computer Based Test (CBT). But you can also opt for a Paper Based Test (PBT) under special circumstances. The fee for both CBT and PBT is $555.
If you want, you can avail a small discount on the test cost. The fee reduces to $405 if you become a PMI member. However, you will have to pay additional membership & joining fee of $129 and $10 respectively in order to avail discounted test cost.
You can refer to the following figure to understand the fee structure completely.
Either way (whether you take the membership or not), you will have to shell out approximately $550 for appearing in the exam. But by taking the membership, you can reap many PMI membership benefits including free download of the the PMBOK Guide.
PMP Certification Cost: 7 Additional Components
1. PMP Training Fee
You have to have showcase 35 contact hours of formal project management education before applying for the exam. these hours can be gained from any project management training and not necessarily from a PMP facilitation course. You might already have the requisite hours through your college education or company's training.
You can save on the training cost if you already have the requisite hours. Otherwise, you can take a PMP training in one of the following modes:
Classroom program
Instructor led online course
Self-Learning online course
I would suggest you take a formal PMP orientation course even if you have contact hours from a previous project management program. It will improve your chances of passing the PMP exam.
There are obvious pros and cons of each type of training modes. The training fee varies with the geographic location and type of training.
Out of these the classroom programs are most expensive whereas self-learning courses are least expensive.
Depending on your geography and the training provider, a classroom training can cost anywhere from $200 to $2500.
A good instructor led online course can range between $200 to $2000.
Lastly, a good self-learning course can range between $200 to $500.
2. The PMBOK Guide
The digital copy of guide is free for the PMI members. But you can buy a paperback, if you are not comfortable studying from a digital book. You can order it physical book from Amazon. You will have to spend approximately $40 for this.
3. Other Reference Books And Study Guides
In addition to the PMBOK Guide, you should invest in a good reference book. A good PMP study guide can boost your chances of success in the exam. It would cost you anywhere from $40 to $100.
4. PMP Practice Tests
There are many free mock tests available on the Internet. But you should invest in a good PMP practice tests, if you want to clear the exam in first attempt. The price of practice tests range between $60 and $300.
5. Other Study Materials
You might want to buy additional study material like formula guide, ITTO guide, flash cards, cheat sheet etc. These are not as expensive as other item, but you should budget approximately $100 for these things.
6. PMP Reexamination Fee
After your application is approved, you are allowed a maximum of 3 attempts at the PMP exam. In an unfortunate circumstance, if you are not able to pass the exam in the first attempt, you can go for 2 additional attempts to crack the exam. You have to pay reexamination fee each time you take the test.
The cost of re-examination is shown in the table below. PMI members have to pay $275 whereas non-members have to pay $375 as the re-exam fee.
7. PMP Renewal Fee
After every three years, you have to renew your credential. PMI members have to pay $60 whereas non-members have to pay $150 as the renewal fee.
Final Thoughts: How Much Does The PMP Certification Cost?
The total cost of PMP certification varies from person to person.
The cost depends on the country of your residence, type of training you opt for, study aids that you buy, and a few other factors.
You can refer to the following table to see two examples of the PMP certification cost. I believe, you should budget for at least $500 over and above the exam fee. PMP certification is well worth this much investment.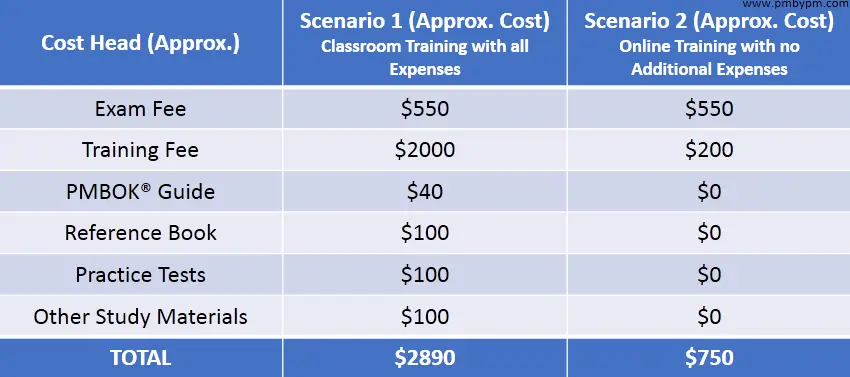 Note: I have not considered cost of re-exam and renewals in the above table.
Good luck!
Over To You
What is your take on the PMP Certification Cost? Do you think it is beyond your budget? Do you think it is worth to pursue this credential?
Please leave a comment.
Related Articles
Disclosure: This article contains affiliate links – it means that, if you buy from any of these links, then I will receive a small commission that would help me in maintaining this blog for free. However, for you, there is no extra cost. I recommend only those products that I believe will definitely help the certification aspirants.