Firm Fixed Price Contract Explained
I have written a number of articles on different types of contracts. In some of my previous articles I have explained Fixed Price (FP) Contract. In this post, let me describe Firm Fixed Price (FFP) Contract. Even though FFP Contract is one of the sub-types of FP Contract but it is just like FP Contract. I will not repeat the things that I have already explained in my previous articles. You can read about FP Contract in detail in Contract Types for PMP Exam. Nonetheless, let me quickly recap what is a FFP Contract.
The Buyer and the Seller agree upon a Price at the time of signing the Contract.
The Scope of the Contract is well defined.
The Price and Scope can be changed only through a formal change control procedure.
The Sellers have more Cost Risk than the Buyers in this type of Contract.
You can read Contract Types for PMP Exam for a detailed exposition of FP Contract. You can also look at Different Type of Contracts to see a small example of FP Contract. These articles explain other types of contracts as well as defined in PMBOK® Guide. You should understand these contracts if you are preparing for PMP® Exam.
Diagrammatic Explanation of FFP Contract
Let us now understand the Firm Fixed Price Contract by looking at some diagrams. These diagrams are based on the formula written below. The formula is explained in my previous article PMP Formulas behind Contract Types. The definitions of Price, Cost and Fee are also explained in the same article.
Price = Cost + Fee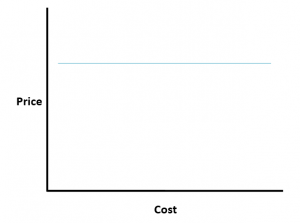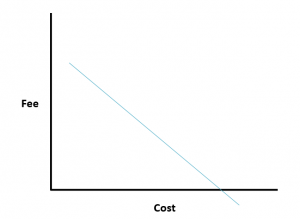 PMP® aspirants would love to undergo a 35 contact hours training from a company that can promise PMP® certification as a FFP Contract. Alas! That is not possible.
You can also read about other variations of FP Contract wiz. Fixed Price Incentive Fee and Fixed Price Economic Price Adjustment in my other posts.
I hope that you were able to understand this topic. Please leave a comment if you have any question.
You can refer to Max Wideman Glossary to read some standard definitions of Firm Fixed Price Contract.
Image courtesy of phasinphoto at FreeDigitalPhotos.net