What is Work Breakdown Structure?
Work Breakdown Structure (WBS) is one of the most misused term in Project Management. It can mean different things to different professionals. The meaning could be Organization Chart, Bar Chart (popularly known as Gantt Chart) or Roles & Responsibilities Chart. It is important to define WBS before we proceed further.
Work Breakdown Structure is a tool to represent Project and Product Scope. A formal definition of WBS would be.
WBS is deliverable oriented hierarchical decomposition of total scope of work.
You can also look Max Wideman's Glossary for few other definitions of Work Breakdown Structure. Before you further, you should read some of my other articles on WBS.
2 Popular Ways to Create Work Breakdown Structure
Pictorial Method
In pictorial method WBS looks like an Organization Chart. It is a reverse tree like structure. Each descending node of WBS represents a component of higher level node. Pictorial method is useful in following situations:
Presenting to Customer, Sponsor or Senior Management.
Gaining formal approval of Project Scope definition.
Getting commitments from various Stakeholders.
Analzing Project and Product Scope at a higher level.
Assigning Accountabilities.
Example of Pictorial Method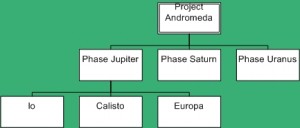 Outline Method
In Outline method looks WBS looks like List of items. It has items and sub-items. Each smaller item of WBS represents a component of higher level item. Outline method is useful in following situations:
Gaining commitments from the Project Team.
Decompose the Work into activities.
Analyzing Project Components at a lower level.
Assigning individual responsibilities to Project Team members.
Regular Monitoring and Control.
Example of Outline Method
Project Andromeda

Phase Jupiter
Phase Saturn
Phase Uranus
The above example is using the same components as used in the example of Pictorial method.
Which is the best Method?
One method is not superior to the other method. Both the methods have their own application. It is sometimes useful to prepare WBS using both the methods.