In this article you will find a brief review of Velociteach PMP and discount coupon for its CAPM and PMP Boot Camp programs.
Velociteach has recently partnered with PMbyPM to offer its CAPM and PMP Boot Camp training courses at an exclusive discount of $500. You can attend a Velociteach PMP Boot Camp that is normally offered at $2447, for only $1947. You can do so by using the coupon code 'PMbyPM' while making the payment.
A Brief Review Of Velociteach PMP Boot Camp
Velociteach is a leading provider of PMI certification training, other project management training, and exam prep products. The company was founded by Mr. Andy Crowe. He is the author of bestselling exam prep book titled The PMP Exam – How To Pass On Your First Try.
Velociteach CAPM and PMP Boot Camps run nationwide in all major cities across United States. The classes are conducted by knowledgeable and experienced trainers. There are many advantages of choosing Velociteach as your PMP provider:
PMI has recognized Velociteach as the Education Provider of the year.
Its workshops are designed by the leading authority on Project Management viz. Mr. Andy Crowe.
Its workshops are conducted by experienced and knowledgeable trainers.
It provides comprehensive study material and step-by-step guidance. You will get all the tools you would need to successfully pass the exam in your first try.
Its boot camps are very popular. It is demonstrated by the fact that the workshops are conducted nationwide.
Its workshops are guaranteed to run.
It provides Money-back guarantee.
4 Steps To Avail The Discount
Step I
Go to CAPM or PMP Boot Camp course page. Look towards the right side of web page for Registration form.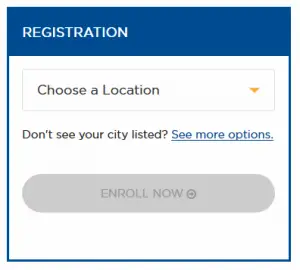 Step II
Choose your location & date and then hit 'Enrol Now' button.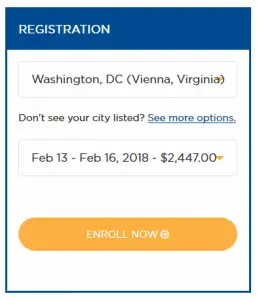 Step III
Enter 'PmbyPM' in 'Promo Code' field and then hit 'Apply' button.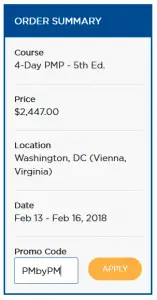 Step IV
You are good to go. Enter your registration details and make the payment.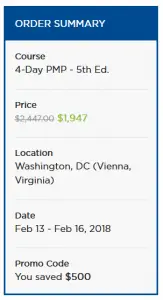 Is A Classroom Workshop Worth The Money?
I am a project management trainer. I have been holding workshops for over a decade. In my experience, a boot camp provides the best platform for learning and concentrated study. It can improve your knowledge & skills in a particular area. The accelerated learning increases your confidence and gives you a booster shot to successfully pass the exam in a short span of time.
You can read my article on benefits of a PMP boot camp to understand how it can save you precious dollars. Your initial investment in a boot camp would seem to be high but it pays off in a long run.
Over To You
Do you think PMP boot camps are beneficial for passing the exam? Is their cost justified? What is your opinion about Velociteach?
Please hare your comments below.
Related Articles
Prerequisites For Pursuing PMP
Is PMP Credential Worth The Money?