You will information about an innovative PMP ITTO cheat sheet in this post. It is prepared as an excel spreadsheet and is based on the PMBOK Guide 6th edition. It contains ITTO (Inputs, Tools & Techniques, and Outputs) for 5 Process Groups (PG), 9 Knowledge Areas (KA), and 49 processes.
An ITTO cheat sheet is extremely useful for the PMI (Project Management Institute) certification exams (PMP and CAPM). In fact, such a sheet is useful for any kind of test.
The ITTO spreadsheet is quite different and much more beneficial from any other ITTO learning tool that you might have seen. It contains dynamic content that is immensely useful for the credential exam study.
I have written this post to explain the utility and features of the Excel sheet. If you think that the spreadsheet will be useful for your exam prep, you can buy it by clicking on the button above.
You can also download a free pdf version of PMP process charts to study for the certification exam. The pdf file is 16 pages long and has the same content as the Excel sheet but it lacks dynamic features of the Excel sheet.
PMP ITTO Cheat Sheet
As per Wikipedia, a cheat sheet (also cheatsheet) or crib sheet is a concise set of notes used for quick reference.
A cheat sheet has abridged information on a particular subject or topic. It can enhance and accelerate your learning. You can prepare one for the mathematical formulas & abbreviations, important PMBOK Guide terms, tips & tricks, ITTO, and many other things.
A regular ITTO sheet (like my free pdf process chart) has static and non-searchable data. It has process charts and ITTO. It is definitely useful for the exam prep but my excel sheet is more useful.
The excel sheet that has dynamic content. It shows only relevant content based on your search. You can look at the figure below to understand how it works.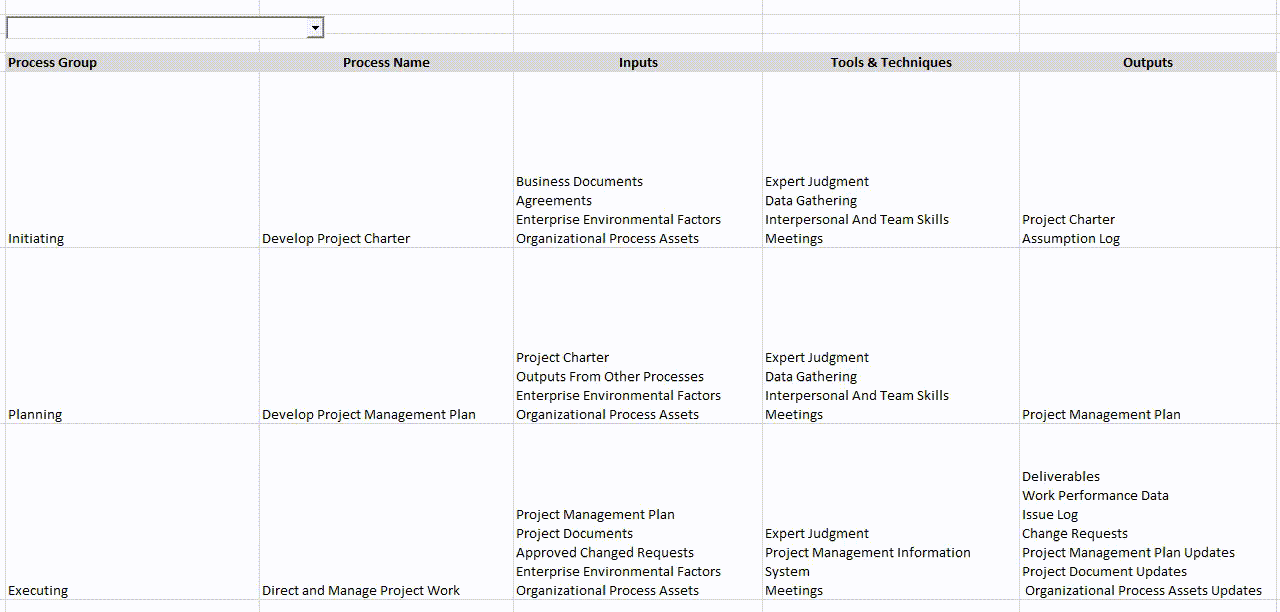 The PMBOK Guide has hundreds of processes related terms and ITTO. You can use the excel sheet to select any of these terms from the drop-down. The sheet will dynamically show the content related to your chosen term.
ITTO Excel Spreadsheet Based on PMBOK Guide 6th Edition
A regular cheat sheet is handy and very useful. You can use it for memorizing and cross reference. But the benefits stop there. The cross referencing across knowledge areas is slow and time consuming.
When you are studying the PMBOK Guide or any other reference book, you need to go back and forth between chapters for cross reference. You need to constantly look at terms in other knowledge areas and understand the relationships between these terms.
This process becomes cumbersome if you have a regular process chart.
My spreadsheet, on the other hand, has dynamic and searchable content. It scores over the pdf process chart. You can use it as a regular chart for memorization and cross-referencing. But you can go beyond that.
By using my spreadsheet, the cross-referencing becomes quick and easy. You can quickly look at the relevant terms across knowledge areas in a single view. It not only accelerates your learning process but also enhances your retention. You can traverse across multiple knowledge areas in a matter of few seconds.
In addition, you can find out which output of one process is being used as input in another process(es). You can form relationships between processes across the knowledge areas and process groups.
Let's take a look at another figure below to understand how searching works.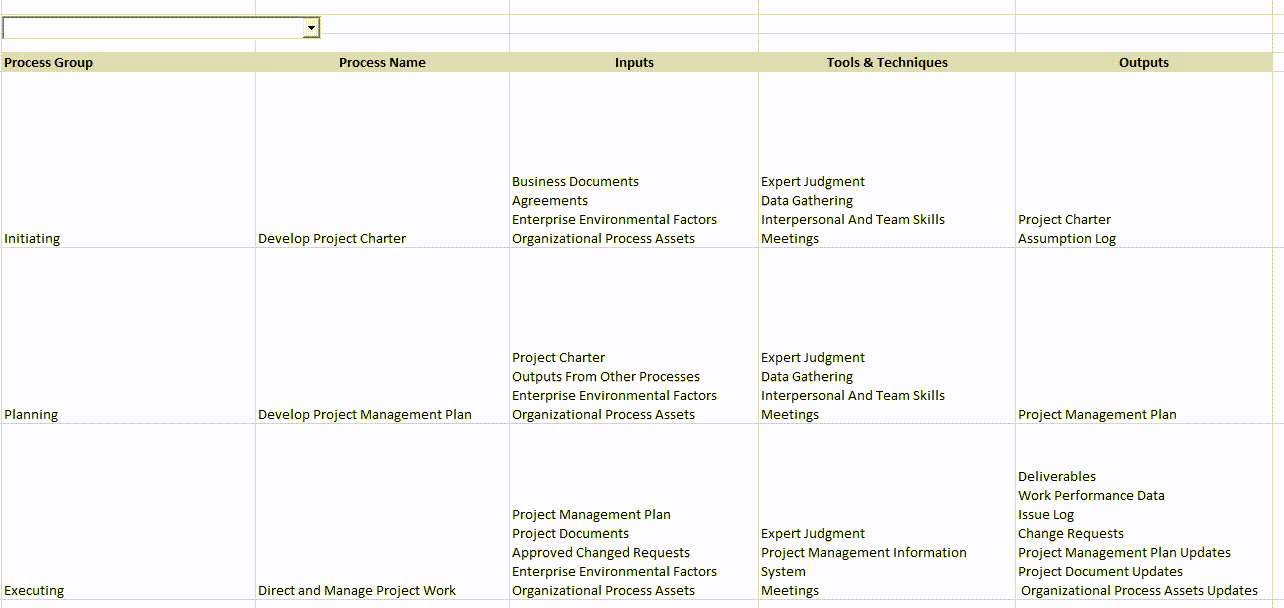 My excel sheet will enhance and accelerate your learning process. You can buy it by clicking on the button below.
Other Tools For Learning PMP ITTO
You can't escape ITTO if you are preparing for the PMP exam. You would need to use a combination of memorization, logical relationships, reasoning, and analytical deduction to answer the PMP questions. The excel sheet aids in all these things.
I have created a two other tools for learning ITTO. You can also look at the following articles for more information on these tools:
These tools are useful for both PMP and CAPM aspirants. If you want, you can buy these tools by investing a small amount.
You can also buy these tools as a bundle at 10% discount.