You might have filled many application forms but nothing is as tedious as PMP registration and application process.
Applying to PMP exam is not difficult but it needs some time. You will end up spending 10-15 hours, over a period of 15-20 days, before you actually submit the form.
In this post, I will take you through complete step-by-step process of applying to the credential exam. I will also show you some examples that my students have used.
If you fill in your application truthfully and supply correct information then there is no chance that your application will be rejected even if it comes under PMI audit.
PMP Application Process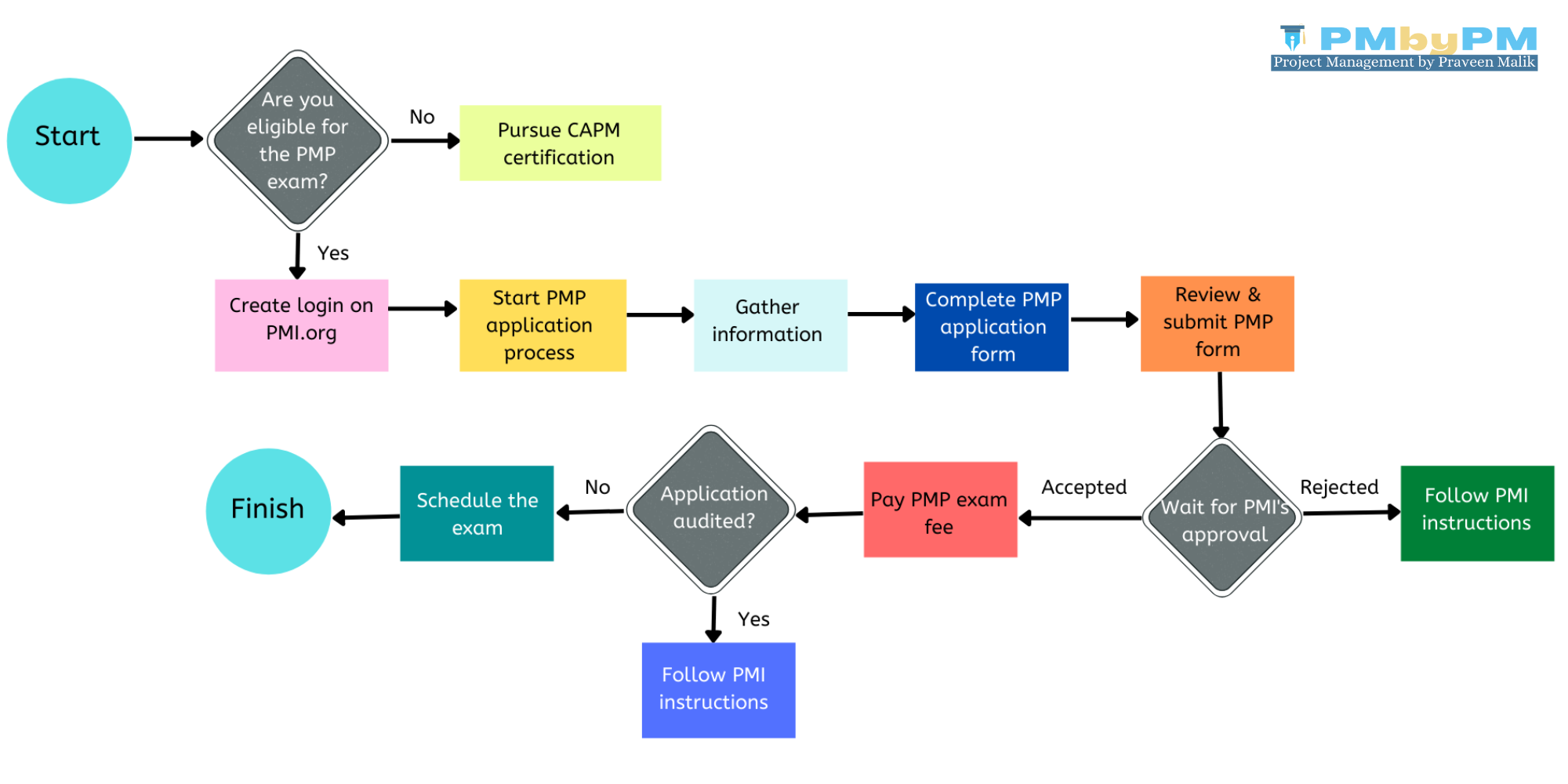 1. Check your Eligibility
You must meet the eligibility requirements of PMP before you apply for the exam. These requirements are dependent on your basic educational qualification.
If you have a 4-year degree (bachelor's degree or global equivalent) then you will need the following:
36 months of professional project management experience in leading and directing projects.
35 contact hours of formal project management education.
If you have a secondary degree (high school diploma, associate's degree or global equivalent) then you will need the following:
60 months of professional project management experience in leading and directing projects.
35 contact hours of formal project management education.
Irrespective of your education, the second requirement is waived off if you hold a valid CAPM certificate.
If you are not a CAPM certificate holder then the 35 hours requirement can be easily met by enrolling in a PMP facilitation course. You should enroll into a training program only after ensuring that you are meeting the first requirement.
You can read my article on PMP qualification criteria to fully understand the above two requirements.
If you are not qualified for the PMP exam then you can apply for the CAPM exam. You can read my article on the differences between PMP and CAPM certifications to learn more about CAPM.
2. Create Login on pmi.org
You can start the registration process by creating a login on pmi.org. Just visit https://idp.pmi.org/register, and supply the necessary information to create your free account.
You do not need to pay any fee at this step.
3. Start PMP Application Process
Filling the PMP application form is a tedious and lengthy process. It cannot be completed in one sitting.
You should get acclimatized with the application form before you start filling the information in it.
To open the application form, follow the below-mentioned steps.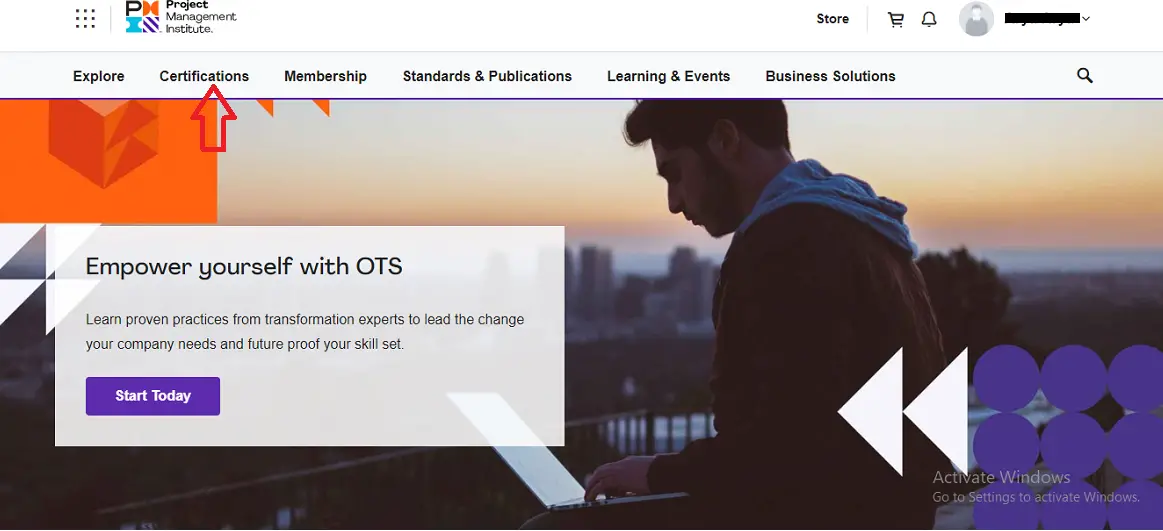 ---

---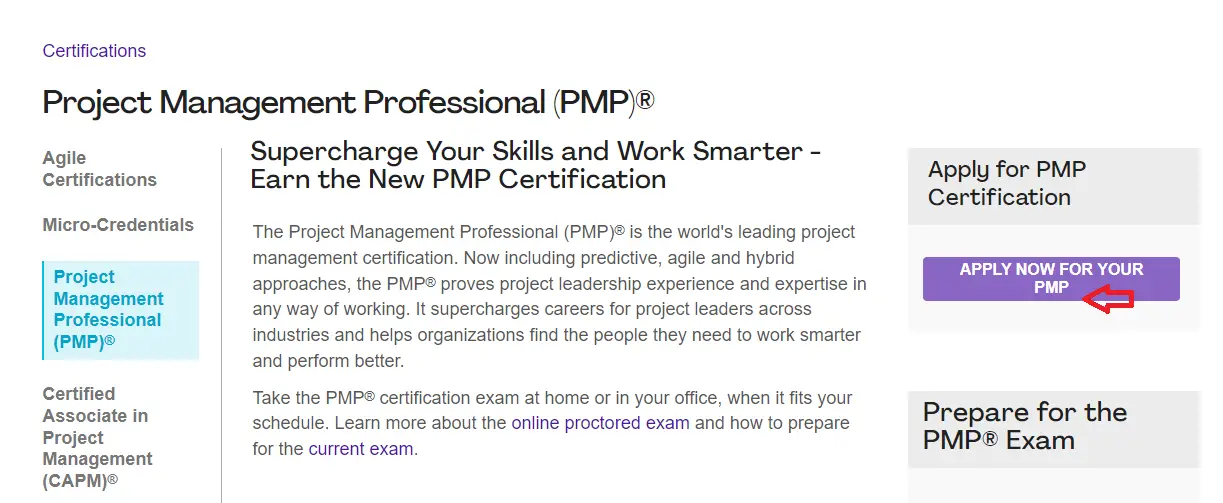 ---
After opening the application, just browse through to check what all is needed by PMI.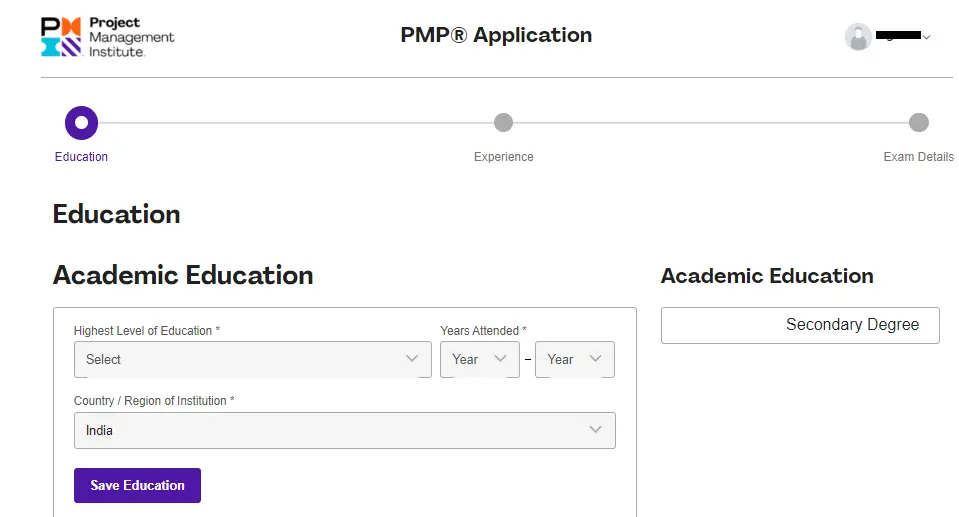 ---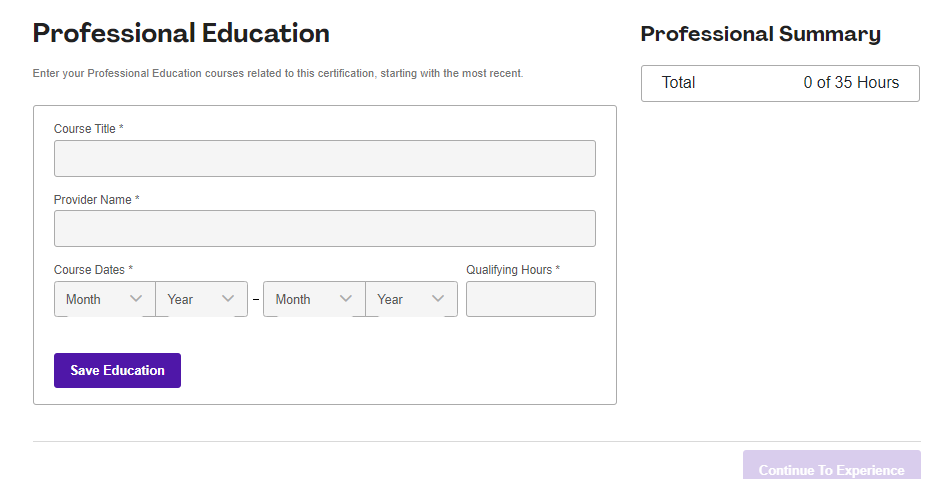 ---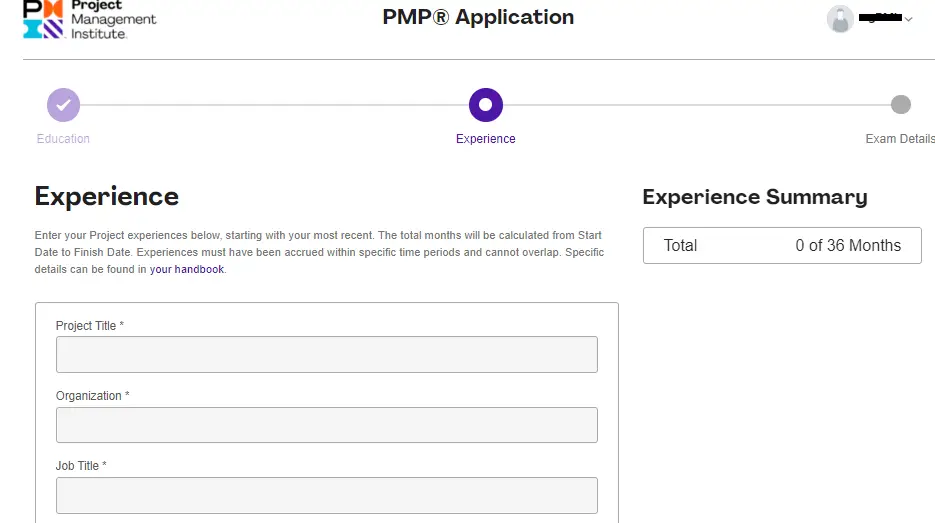 ---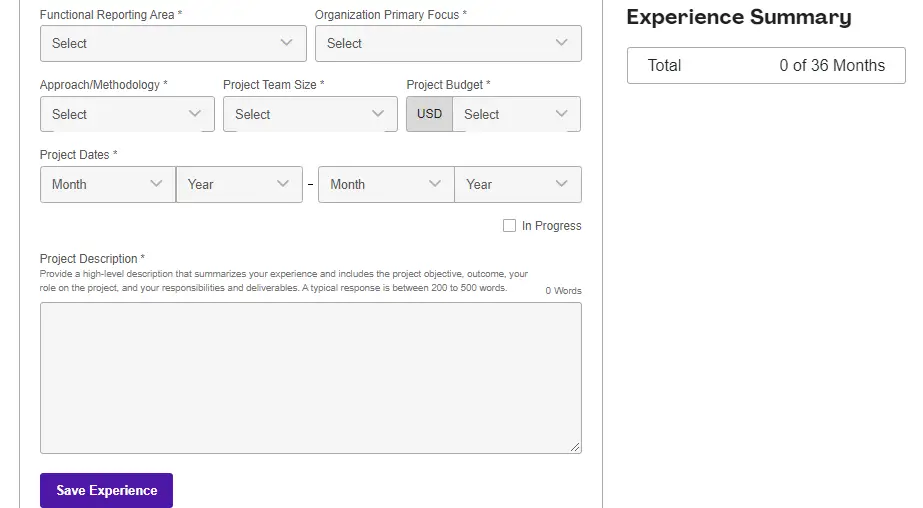 ---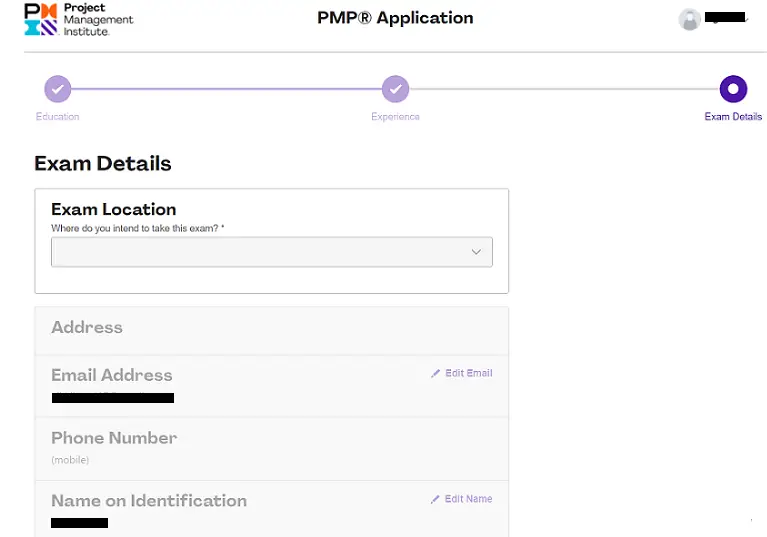 ---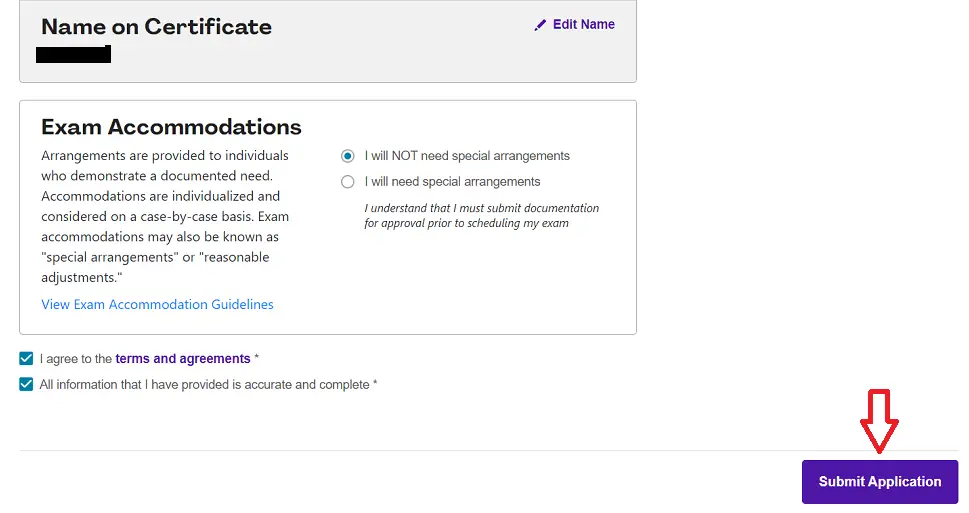 ---
At this point, if you want, you can enter small pieces of information and save the application form. Otherwise, just make a note of what all information is required and then jump on to the next step.
4. Gather Information
After going through the previous step, you would have noticed that the PMP application requires a lot of information. Just refer to your notes from the previous step and start gathering the following information that is related to:
your education including the name of institution, field of study, country, and year of passing.
your professional experience including your organizations, the projects in which you supervised, your roles & responsibilities, and the duration of projects.
35 hours of formal education in project management including the name of the institution and number of qualifying hours.
your managers and colleagues from the current and past projects.
5. Complete PMP Application Form
You can easily traverse through this step if you have already gathered the required information in the previous step.
You just need to enter the required information in PMP application form and save it. If you want, you can save the form and come back to it later. You can open saved form to add or edit any information.
PMI keeps the online applications live for a period of 90 days. During this period, PMI will email you reminders to complete the application. You application will be automatically closed If you do not submit it within the stipulated time.
6. Review and Submit PMP Application Form
You should review your application thoroughly after completing it. You should submit the application only after ensuring that the application is complete in all respects.
You should double-check your email id as it is the most important piece of information. PMI uses email as the primary medium to communicate with candidates. You would not receive any communication from PMI if your email id is incorrect.
Your application cannot be canceled after you submit it.
You do not need to pay any fee at this step also.
 7. Wait for PMI's Approval
PMI reviews applications after they are submitted. They verify that you meet the eligibility criteria and look for inconsistencies in your application.
PMI takes 5 business days to review online applications but the review of offline applications can take up to 10 business days.
You will get a notification from PMI once your application has been reviewed. PMI will approve your application if you supplied the correct and consistent information. However, sometimes, PMI might ask some additional questions before approval.
In rare cases, applications are rejected also. So, you should carefully check the information before submitting the application.
8. Pay PMP Exam Fee
You don't need to pay anything till your application is approved. PMI will send your instructions for payment only after your application has been approved.
You can complete the payment by visiting your online application. It will give you a choice to select the mode of payment.
An online payment is preferable because it is quick and easy. However, if you want, you can make payment through an offline mode also.
| PMI Member Status | Computer Based Test (CBT) | Paper Based Test (PBT) |
| --- | --- | --- |
| Member | $405 | $405 |
| Non member | $555 | $555 |
9. Complete PMI Audit if Audited
PMI randomly selects a specified percentage of applicants for the audit. The audit is done to verify the sanctity of the information that you have entered in your application mainly your education and experience-related information.
You will receive an email notification if you are selected for the audit. The notification is usually sent immediately after you make the payment but PMI can check your documentation anytime during the certification process.
PMI will send you instructions to complete the audit process. They will ask you for the following supporting documents:
Copy of your education certificates, diploma, or degree.
Signed letters from your supervisor(s) or manager(s) for the projects that were recorded in experience section.
Copies of certificates and/or letters from training institutes for 35 contact hours requirement.
You will get 90 days to submit your documentation. PMI will take 5-7 business to process thae documents after they are received.
To avoid delays, you should put all your documents together in one envelope and then post them. After the audit is completed successfully, you will get 1 year to write the exam.
You must follow the audit guidelines completely otherwise you might fail the audit.
10. Schedule the Exam
You will receive an email containing scheduling instructions and eligibility number after the payment has been made. You can use this number to book your exam.
You can schedule the exam anytime within one year. During the year, you can attempt the exam three times.
Tip: Gather all the documentation and information you need to complete your application before filling it. Otherwise, it will take you several sessions to complete the application.
PMP Application Examples
Note: These examples have been taken from real applications that were approved by PMI. The names have been changed to maintain confidentiality.
| Project Name | Project Description |
| --- | --- |
| Alpha | To support an ongoing Dot Net application and to develop two new applications called Andromeda and Milky Way as a part of Cockpit structure. |
| Bravo | To create an automation wherein a word document get created automatically according to the type of request selected. |
| Charlie | To develop an application for Client, which is cloud enabled Test Data and Test Report verification application. |
| Delta | To allow Autopay system data for consumption by front-end systems. |
| Foxtrot | Develop tool to identify financial obligations impacting organization and review the policy that demonstrates meeting criteria for obligation. Outcome: S/W that helps to manage firms obligations. |
PMP Application Tips
Read and follow PMI code of ethics. Fill in the application form honestly and truthfully.
Undergo a 35 hours project management training program before starting the online application process.
Collect all the information that is required to be filled in the form before starting the online application process.
Keep a copy of all the educational and experience certificates with you while filling the form. Also keep you 35-hour training certificate handy.
Review every bit of information carefully before submitting your application form.
Double-check your email ID before submitting your application form. PMI will use this to contact you.
Notify your managers and former colleagues that you will be applying for the PMP exam. PMI might contact them if your application comes under audit.
Over to You
PMP exam is considered to be tough exam. There are many uncertainties surrounding the exam.
The aspirants are not only anxious about the study but they are also uncertain about the PMP application process. They face a lot of difficulty while filling the application form.
What is your biggest challenge for the PMP exam? Is it related to studies or filling the application form?
I would love to hear from you.